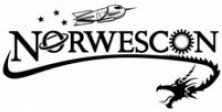 Another really neat thing about Norwescon was all the delicious swag on display.  There was a big vendor area, kind of like a bazaar, where loads of people had set up shop selling everything from books to battle-axes (I'm serious, if I thought I could have gotten it on the airplane I could have bought a for-real battle axe).  This in part helped explain the posted Norwescon rules regarding carried weaponry since I could have gone in there with a credit card and walked out well armed enough to totally storm the hotel gift shop.
There were tons of neat costume accessories there, including some truly impressive leather work that had a steampunk vibe (I assume these were custom created as I've never seen anything like it before), and tons of handmade jewelry.  Fake fangs, zombie blood, wonderful art depicting cats who were also geishas…it was pretty neat to see.
After some browsing, mingling and shopping it was time for the event itself.
The dinner they treated my wife and I to (in the hotel's rooftop restaurant) was excellent (they had me at the smoked oysters) and then we all went downstairs for the PKD Award ceremony.  There I got to meet a couple of the other contenders who had made the trip (the authors of 'The Reapers are the Angels' and 'Harmony')  They had set up big posters of our book covers and the whole thing was recorded and streamed over the internet.  I had not realized that 'Project Itoh' (the moniker of Harmony's author) had passed away, and the speech given in his honor was quite touching especially knowing that friends, fans and family in Japan were able to watch it live.  Alden Bell (aka Joshua Gaylord, aka the author of The Reapers are the Angels) delivered a performance that was much better than mine as we all got up in turn to do a reading.  Though Mark Hodder (who actually won the PKD Award) couldn't be there because he was in Spain, a representative from Pyr did a great reading that would make almost anyone I think want to read 'The Strange Affair of Spring Heeled Jack'.
And then that was mostly it…there was a party upstairs afterward that we were all invited to.  My wife and I stuck our heads in long enough to realize neither one of us is any better at parties now than we were when we were younger, then ducked back out but the sentiment was very much appreciated.
All in all it was a great time from start to finish.  Everyone involved in the 'con was very nice and William Sadorus in particular had a way of appearing from out of nowhere to steer us toward something cool or a particularly good seat for an event we'd gone to.
Big thanks to all involved!